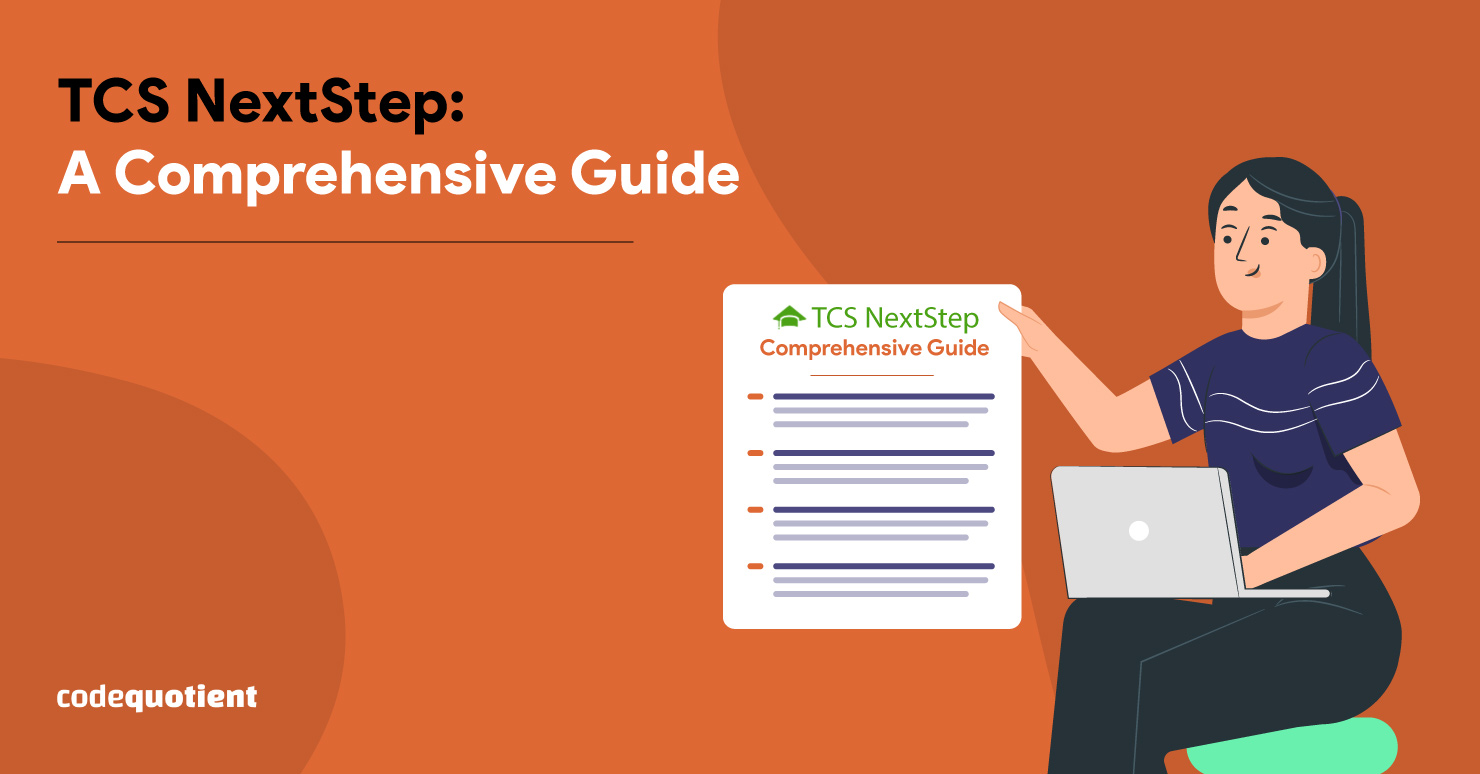 Tata Consultancy Services is India's leading IT services company and a top destination for Indian engineering graduates. TCS NextStep is a dedicated website that helps entry-level graduates to get jobs in Tata Consultancy Services (TCS).
Candidates interested in getting a job at TCS must register on the Nextstep website. Fresh graduates are also eligible to register.
The TCS NextStep site is instrumental in conducting the on-campus and off-campus recruiting drives for TCS. The university or institution will inform all students in their final year to register for on-campus drives. If you apply for the off-campus drive, TCS will send you an invitation as soon as it is scheduled.
This article will guide you on TCS NextStep- how to participate, register, eligibility, and the preparation strategy.
Benefits of TCS NextStep for Students

TCS is one of the biggest IT recruiters in India. It is also one of the most desired workplaces for engineers who have graduated from college and want to work in Information Technology. Many candidates compete for a few job roles available at a time.
Hence, for the applicants who could not land a job at the organisation, registering on the TCS NextStep Portal is the best approach to applying for a job with TCS.
The following are the benefits of TCS Nextstep for students.
1. Get Placed in A Prominent Company 
TCS NextStep provides freshers with a web portal to assist them in applying for jobs with TCS, a reputed organisation that can benefit their career prospects in the long term.
Moreover, TCS offices are located across India and the globe, meaning you can have plenty of new work opportunities and grow as a professional in the IT domain.
2. Good Chance for Off-Campus Job Seekers
For students who are not chosen on campus or whose universities do not provide such placement sections, TCS NextStep 2023 can be a fantastic opportunity. Being a multinational company, TCS can offer them many opportunities.
Moreover, for engineering graduates with little work experience, the TCS off-campus hiring push has opened new opportunities to test their knowledge and hone their corporate skills. Such engineering graduates have an incredible opportunity to learn from industry leaders and launch their careers on a high note.
3. Helps Students Connect to the Campus Commune 
Students could also connect to Tata Consultancy Services Limited's Campus Commune, a platform for social engagement in academics. TCS has developed Campus Commune for its future employees, where students can socialise with other students and TCS employees in the TCS Campus Commune.
While they wait to join, the platform aims to keep students engaged and assist them in improving their learning. It aids in career advancement, selection, and upcoming interviews. It also gives the students the tools to engage in insightful discussions on various subjects while also assisting them in staying updated about the company.
4. Perks of being a TCS Employee
Being affiliated with a brand helps secure job security and the satisfaction that you are on the right professional path. Also, many commend TCS for allowing employees to balance their personal and professional lives.
Working at TCS opens up the prospects of international opportunities and allows you to explore new cities and nations. Depending on your role, you might even get the chance to relocate internationally.

There are two different types of registrations on the TCS NextStep platform.
Graduates and diploma students of any discipline are eligible to apply for the Information Technology field, and business and management graduates are eligible to apply for the Business Process Service field.
The  IT-Information Technology field is for Engineering/MCA/Arts/Science and Diploma graduates and BPS-Business Process Service for MBA graduates.
Please note that you can only register with us under one category, and doing so may require you to go through the registration procedure again if you select the wrong category.
Eligibility Criteria to Participate in TCS NextStep

TCS generally employs people in the BPS and IT. Before enrolling and submitting an application on TCS NextStep, candidates must confirm their eligibility.
Details regarding eligibility are provided below. Candidates can review the same to determine whether or not they are eligible to apply.
Eligibility Criteria for IT-Information Technology in TCS NextStep 
For candidates to be eligible for the TCS NextStep IT category, they must have these qualifications:
Completed an MCA with an undergraduate BCA, B.Com, BA, or B.Sc degree (with a background in math or statistics) OR Have completed an M.Sc in computer science or information technology
Scored 60% and above marks in class X, XII, undergraduate and postgraduate exams.
Ideally, there should be no backlog. Breaks or gaps of up to 24 months are permitted, but only with a good cause.
Must have less than three years of work experience.
Engineering Branches Eligible for the IT Category Registration
Computer Science
Electrical Engineering
Electronics and Communication
Electronics and Electrical Engineering
Electronics and Telecommunication
Electronics/Electrical and Instrumentation Engineering
Information Technology
Instrumentation Engineering
Mechanical Engineering
Network Engineering
Eligibility criteria for the TCS NextStep BPS category
You must be qualified by holding a full-time MBA degree. A distance learning or part-time MBA is invalid.
The required age range is 18 years old to 28 years old.
If you want to be considered for this position, you should be a specialist in one of the following areas: operations, finance, marketing, IT & systems, or human resources.
Your job title will be "management trainee" in this position.
You must have at least 60% above-average marks in your 10th, 12th, graduation, and postgraduate coursework without any backlogs.
An education gap is permitted for a maximum of two years for a valid reason.
TCS NextStep 2023 Application and Registration Process

The following are the steps to be followed for the application and registration process of TCS NextStep 2023:
Visit this link- https://nextstep.tcs.com/campus/, after which you must click "Register Today."
Complete it using your PC or the TCS NextStep official app because you cannot use a mobile website.
Choose your work profile from the two available profiles. IT or BPS are the two profiles. (Before making your decision, make sure you have read the eligibility requirements outlined above.)
Choose the application type you want between the two available. One is "on campus (CT)," and the other is "off campus (DT)."  If this question is not asked, you can skip this step.
You must now carefully enter all of your essential information, including the name of your college, degree, email address, and mobile number. Complete all the fields and press "Submit." Your reference ID and password will be sent to your email address after you click "Submit."
Now click continue and enter the password you received in your email id, and click on log in.
When you log in, you will see a menu bar on the left side. Open the menu bar, then select "Application Form" from the list of choices. You must enter your personal and academic information into the application. You will need to provide a recent passport-size photo and an updated resume.
  Format allowed for a photo is- jpeg and jpg, and resume –  .docx, .doc, .rtf, and .txt.
You can now click on submit after carefully filling out all the fields. Your application form has been successfully submitted.
Don't forget to download your submitted application form and keep it safe for future purposes.
Use the 'Track my application' to know about the status of your application.
Some Crucial Details about Qualifying Exams
Upon registration, the candidate has two exam options: on-campus or off-campus.
TCS NextStep administers tests for important job roles on different engineering campuses. This is known as TCS NextStep on-campus exam. Students must register through their respective colleges to take this exam.
Also, on exam day, candidates must bring a printout of the application form to the TCS on-campus selection procedure. They must meet the age requirements while applying for employment openings through the TCS selection procedure. The minimum and maximum application ages are 18 and 28, respectively.
As previously indicated, a candidate must register online before they can show up for the TCS off-campus exam. Email serves as the notification method for the planned off-campus interview.
Once you receive a notification, sign in to the TCS portal, pick a location for the online test, and submit an off-campus application. On the selection day, you must bring your application and résumé.
Preparation Strategy for TCS NextStep

There is fierce competition for the TCS National Qualifying Test (NQT) 2023 applications. Everything, including the most recent curriculum and exam pattern, is readily available, so you need a winning plan and thorough preparation.
TCS NQT 2023: Common Tips for An Effective Preparation 
The points listed below provide the most effective TCS NQT Test preparation advice for candidates just starting the syllabus.
1. Understand the TCS NQT Selection Procedure 2023
Candidates must advance through four phases of the selection process to be hired. They consist of the following:
    Online Test
    Technical interview
    Managerial Interview
    HR Interview
2. Understanding the TCS NQT Syllabus
Becoming familiar with the TCS NQT Syllabus for 2023 is the initial step in any exam preparation.
During the TCS NQT, The applicants must take a three-hour online test, and there will be 92 total questions that candidates must answer in person. On the online test, candidates are evaluated on their understanding of coding and programming skills.
In terms of the interview rounds, candidates must have a solid understanding of the syllabus's factual aspects so they can easily respond to questions concerning the TCS NQT syllabus.
3. Understanding the TCS NQT Test Pattern
The next step is to review the TCS NQT Test Pattern for the 2023 test.
Cognitive Abilities
This section assesses English grammar, reading comprehension, and proper usage.
This section evaluates the ability to identify numerical patterns and words, figural and factual analysis, problem-solving, propositional reasoning, decision-making, and visual-spatial reasoning.
This section assesses arithmetic, number systems, data interpretation, and elementary statistics.
Programming
The following knowledge and skill domains relevant to job tasks are assessed in the programming section:
Pseudocode, algorithms, programming constructs, the fundamental Software Development Life Cycle (SDLC), its stage-by-stage documentation, and its implementation in C, C++, and Java will all be tested by candidates.
To pass the application test, applicants must be proficient in any programming language, including C, C++, Java, Python, and PERL.
4. Review the TCS NQT Cut-Off for Earlier Years
Applicants should review the TCS NQT Cut-offs to determine the minimum score needed in each section to advance to a specific level. The TCS NQT, Previous Year Paper, can be taken by candidates, who can then compare their scores with the cut-off. This will enable them to assess their strengths and weaknesses and conduct a more organised study focusing on their weaknesses.
Advanced TCS NQT Preparation Tips by Experts 
A. Develop a study plan for the TCS NQT 
The first and most crucial piece of advice for preparing for the TCS NQT is to create a study plan. Keep the following in mind when you create your study plan:
Create a month-by-month subject plan. List a few topics you want to address for the next 30 days each month.
Create a weekly plan to further divide them into manageable tasks that you must do within a week. Weekends might be set out for reviewing material covered during the week. You can evaluate your preparedness by taking a weekly evaluation test and trying a full-marks paper.
Setting daily goals can help you stay organised and avoid missing anything crucial.
Create a solid revision schedule to effectively finish the TCS NQT Syllabus before the exam date by reviewing all the topics.
B. Subject-wise TCS NQT Preparation Tips for Online Exam
This evaluates a candidate's command of language and communication style. Due to the importance of communication in the professional world, this element is crucial in determining your eligibility. Practice writing, reading and speaking as fluently as you can manage.
Another crucial component of the TCS NQT test is reasoning. The portion will include puzzle-style questions, questions about seating arrangements, and other things. Candidates must attempt various reasoning ability papers to understand the kinds of questions often seen in tests.
Programming Logic and Hands-on Coding
Being proficient in the programming language is crucial for appearing in this test. Solve PYPs to gain a sense of the various topics that are often covered in the paper so that you can plan accordingly.
For this numerical ability section, adequate preparation is necessary to succeed. Make sure you have covered all the key points listed in the syllabus.
C. Solve Mock Tests and TCS NQT Previous Years' Papers
One of the most important TCS NQT preparation suggestions is for candidates to practice mock tests extensively and refer to previous years' questions to improve their study plan.
Preparing for the TCS NextStep Interview
With the correct preparation, every interview can be aced. TCS rigorously evaluates applicants' technical aptitudes as well as their capacity for problem-solving. It will be simple to succeed in the interview if you adequately prepare.
There are different types of interview rounds:
1. Technical Round Interview
Your technical expertise, biography, and key projects will be the main discussion topics during the interview.
The face-to-face technical phase of the TCS interview comprises questions to determine the candidate's proficiency with:
object-oriented programming concepts
database management systems
operating systems
networking
a programming language of your choosing.
There is a good likelihood that you may be required to write some code on paper.
2. Managerial Round Interview
A group of senior members oversees the managerial round. This round of interviews also takes place in person. This round may be made up of technical questions or include management and technical questions.
Most of the questions are related to the position for which you are being interviewed. Any new software or technology necessary for that role should be familiar to you.
You could also be asked questions based on your actions to evaluate your thinking style. You may face pressure to test how you handle it. The accomplishments included in your CV could be challenged, and you might need to defend them. You can be asked about your prior employment, goals, reasons for joining TCS, and other related subjects.
In this round, the panel will evaluate how well you match the business culture and your attitude, soft skills, intended career growth, and other aspects. Generic inquiries about your job history, college degree, area of specialisation, desire to move, etc., may also be made in this interview.
In addition to the typical HR questions about your strengths and weaknesses, you can expect questions about why you applied to the company, why you should be hired, and other topics, including your work experience, education, interests, and family background. They can also ask about TCS's founding date, goals, core principles, organisational structure, and other details.
Most applicants think the HR interview is straightforward, but remember that even if you've passed all other tests, a subpar HR interview might prevent you from getting the job (aptitude test, technical round, etc.). The objective is to keep a cheerful and assured demeanour.

Tata Consultancy Services is India's top IT services company and an excellent destination for engineering graduates. To be considered for any job postings, applicants must complete the registration procedure and fill out the application form. With TCS NextStep, the company hires freshers with a web-based interface for both, on and off-campus.
TCS NextStep Portal is an ideal way to get registered to try for a position in TCS.
For comprehensive guidance, visit the learning and career platform CodeQuotient.
Besides useful all-encompassing resources, we offer internship opportunities like SuperCoders Program to help you build an impressive portfolio while gaining deep project-based learning in a corporate environment.
Talk to us to learn more!

These are a few TCS NextStep-related questions that are often asked.
Do I need to register again if I already have a CT or DT number?
You can use the same reference number at the TCS NextStep portal if you already have a CT (campus-based) or DT (individual-based) number. You do not, however, need to register a new profile.
Is it possible to edit my profile on NextStep Portal?
Yes. You may edit the application by selecting the "Edit Application" form. However, your name, date of birth, address, email address, and phone number cannot be changed.
My test location has to be changed. Where can I find that?
The closest test site has to be updated on your application form. Until your profile status reads "Application Received," you can make changes. If your hall ticket has already been generated, the test location cannot be changed after it has been chosen.
What is the Campus Commune in TCS?
In addition to interacting with TCS employees, students can connect with their peers in this setting. They may learn more about the company and receive other information and updates.
Who can register for TCS NextStep?
Any college graduate or postgraduate (Without Backlogs) BE, B.Tech, ME, M.Tech, MCA with a BCA, B.Com, BA, B.Sc, or M.Sc in computer science or information technology, IT & systems, operations, marketing, finance, or human resources.
How to register for TCS Next Step?
On the official website, https://nextstep.tcs.com, you can register.
What do I do if I lose my TCS NextStep reference ID and password?
Don't worry; TCS will send an email with your reference ID and password when you register; simply check your inbox to get them.
Get UGC Approved, BCA Degree
And Earn While You Do That
Join CodeQuotient's Under-Graduate Program In Software Engineering
Get Paid Internship with Our Hiring Partners to Sponsor Your Fees
100% Placement Assistance