The TCS National Qualifier Test (NQT) is an entry-level examination conducted by Tata Consultancy Services (TCS) to assess the technical and aptitude skills of the candidates. It is a crucial step in the recruitment process for you to join TCS, one of the leading IT companies in India. The exam combines technical and aptitude questions to test your problem-solving, communication, and quantitative skills.
As we all know, mock tests are the best way to prepare for any exam, and the same holds true for TCS NQT mock tests. But before jumping to your first mock test, let's understand the structure of the exam.
Some Vital Details of TCS NQT 
TCS NQT Pattern
There are six sections in the TCS NQT:
Numerical ability
Verbal ability
Reasoning ability
Programming logic
Hands-on coding 1
Hands-on coding 2
TCS NQT Duration
The total duration of the test is 180 minutes. Each section has its specific time limit. For example:
Numerical ability: 26 questions – 40 minutes
Verbal ability: 24 Questions – 30 Minutes
Reasoning ability: 30 Questions – 50 Minutes
Programming logic: 10 Questions – 15 Minutes
Hands-on coding 1: 1 Question – 15 Minutes
Hands-on coding 2: 1 Question – 30 Minutes
As you can see, the test mainly focuses on the candidates' overall aptitude, which means you'll be evaluated on basic coding skills and general aptitude.
Therefore, TCS NQT mock tests are the easiest way to brush up on your knowledge and skill in both areas.
Best Approach to Crack TCS NQT
The best way to prepare is through TCS NQTmock tests. But that doesn't mean you should not focus on the individual sections. In the end, your chances of cracking the exam increase with the amount of knowledge you gain.
The overall difficulty level of TCS NQT isn't very high. Nonetheless, it's a very competitive exam due to the many capable students taking it every year.
Why Should You Take TCS NQT Mock Tests?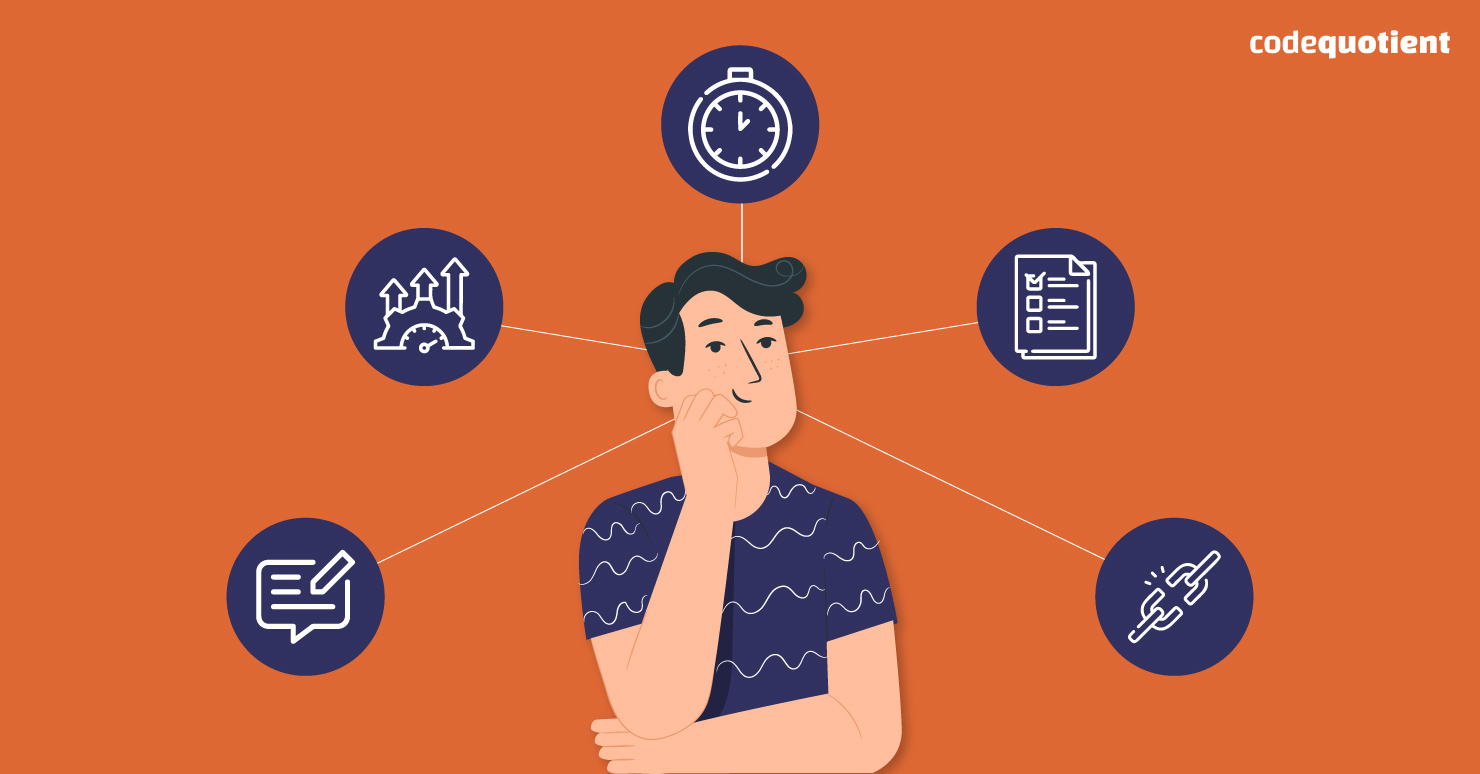 Many students are confused about mock tests – when to take them, how to take them, and whether to take them at all.
In the following sections, we'll examine why you should attempt multiple TCS NQT mock tests before the actual examination.
1. Familiarise yourself with the exam Pattern and syllabus
The TCS NQT exam pattern and syllabus are designed to test a candidate's technical, aptitude, and communication skills.
Taking mock tests can help you familiarise yourself with the exam pattern, the types of questions, and the syllabus. This will give you a better understanding of what to expect in the actual exam and help you prepare accordingly.
2. Identify Weaknesses and Improve Them
TCS NQT Mock tests can be a great way to identify your weaknesses and work on improving them. You can pinpoint the areas where you need to put in more effort and focus on strengthening your skills, which will help you enhance your overall performance in the exam.
3. Practice Time Management
One of the biggest challenges in any exam is managing time effectively. The test has a time limit of 3 hours, and it is important to finish the exam within the given time.
Taking TCS NQT mock tests will help you practise time management and learn to complete the exam within the given time limit.
3. Improve Speed and Accuracy
Mock tests will help you improve your speed and accuracy in solving the questions. As you take more and more mock tests, you will get faster and more accurate in solving the questions. This will help you save time in the actual exam and improve your chances of clearing it.
4. Get Feedback and Improve Your Performance
Mock tests come with detailed solutions and explanations for each question. This feedback can help you understand the reasoning behind each answer and improve your performance. You can learn from your mistakes and work on improving your weaknesses.
Final Note
A career in IT is rewarding, and one must put their best effort into succeeding at the first chance. TCS NQT mock tests can improve their performance.
So prepare well for the upcoming TCS NQT and give it your best!
If you want personalised guidance, be sure to visit CodeQuotient, the learning and career platform. Besides valuable resources, we have superb internship opportunities like SuperCoders, which aims to upskill and prepare learners for their IT careers with in-depth project-based learning and mentorship.
Contact us today to learn more!
TCS NQT: Frequently Asked Questions
What are the subject areas in TCS NQT?
Numerical Ability, Verbal Ability, Reasoning Ability, Programming Logic, and Coding (DSA) are the main subject areas in TCS NQT.
What type of questions are asked in the TCS NQT?
TCS NQT mock tests include cognitive and programming skills. Questions under cognitive skill cover verbal ability, reasoning ability, and numerical ability. Programming skills include logic and coding questions.
How many times can you take TCS NQT?
There's no restriction on the number of attempts for TCS NQT.
Get UGC Approved BCA Degree
And Earn While You Do That
Join CodeQuotient's Software Engineering Program
Study at NAAC A+ Accredited Partner University
Get Paid Internship with Our Hiring Partners to Sponsor Your Fees
100% Placement Assistance