URETata Consultancy Services (TCS), a subsidiary of the Tata Group, is an Indian multinational company headquartered in Mumbai. TCS operates in 46 countries and has 199 branches across the world and provides information technology (IT) services, business solutions, and consulting.
TCS is one of the largest IT recruiters in India. For engineers fresh out of college, who want to pursue a career in information technology, TCS is a dream destination. However, with thousands of candidates applying for a TCS job role, not everyone gets an opportunity to work for this MNC.
For these candidates, TCS NextStep Portal is an ideal way to get registered to try for a position in TCS.
All You Need to Know About TCS NextStep
TCS NextStep is an exclusive web portal for entry-level graduates of programming languages to apply for job roles at TCS by successfully cracking their exams. Graduates who have finished their graduation in recent years are also eligible to register.
In 2021, TCS is expected to hire 40,000 freshers to work across their offices pan India. Freshers who want to start their career with TCS through on-campus/off-campus selection must register for TCS Next Step Portal at the earliest.
TCS NextStep 2023 Eligibility Criteria
On the TCS NextStep portal, two types of registrations are available. While graduates and diploma students of any discipline may apply for the Information Technology (IT) field, only business and management graduates are eligible to apply for the Business Process Service (BPS) field.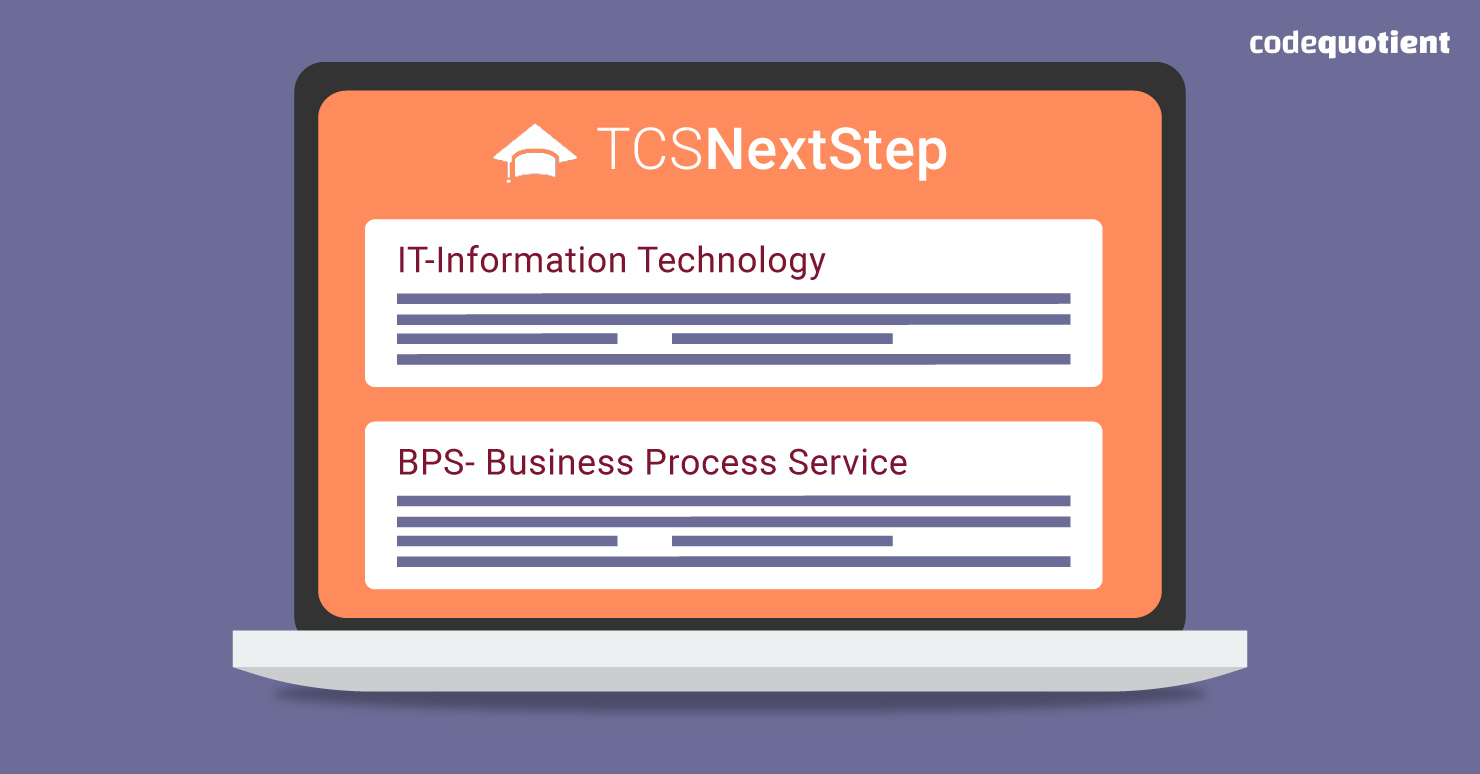 Candidates can register for two types of industries in the TCS NextStep Portal depending on their degrees. There are two sections of registration available in the TCS NextStep Portal.
IT-Information Technology: This category is for engineers and information technology students.
BPS- Business Process Service: This category is for business management students.
Hence, a candidate can register under only one category, either you have a choice to apply for IT or BPS. Registering in the incorrect category will require the candidate to repeat the entire registration process.
Eligibility Criteria for IT-Information Technology in TCS Portal
To be eligible for the TCS NextStep IT category, the candidate must:
Have a degree in engineering (BE / B.Tech / ME / M.Tech)
OR
Have done an MCA with BCA/B.Com/BA/B.Sc (with Math/Statistics Background)in undergraduate
OR
Have done M.Sc in Computer Science / Information Technology
Must have got 60% and above marks in class X, XII, undergraduate and postgraduate exams.
Should have no pending backlog
Break or gap of up to 24 months is allowed but valid reasons must be provided.
Must have less than 3 years of work experience.
Eligible Engineering Branches for TCS NextStep Registration:
Computer Science
Information Technology
Electronics and Electrical Engineering
Mechanical Engineering
Electronics/Electrical and Instrumentation Engineering
Electrical Engineering
Electronics and Communication
Electronics and Telecommunication
Instrumentation Engineering
Network Engineering
TCS NextStep Registration for BPS-Business Process Services
Qualification/Education: Full-Time MBA
Specialization: Operation, Finance, Marketing, IT & Systems, HR
Must have got 60% and above marks in class X, XII, undergraduate and postgraduate exams.
An education gap of up to 2 years is allowed for valid reasons.
Must have less than 3 years of work experience.
TCS NextStep 2023 Exam Pattern
The TCS NextStep exam for the IT category will have four sections: Aptitude (20 questions), Verbal Ability (10 questions), Programming (10 questions), and Coding (1 question).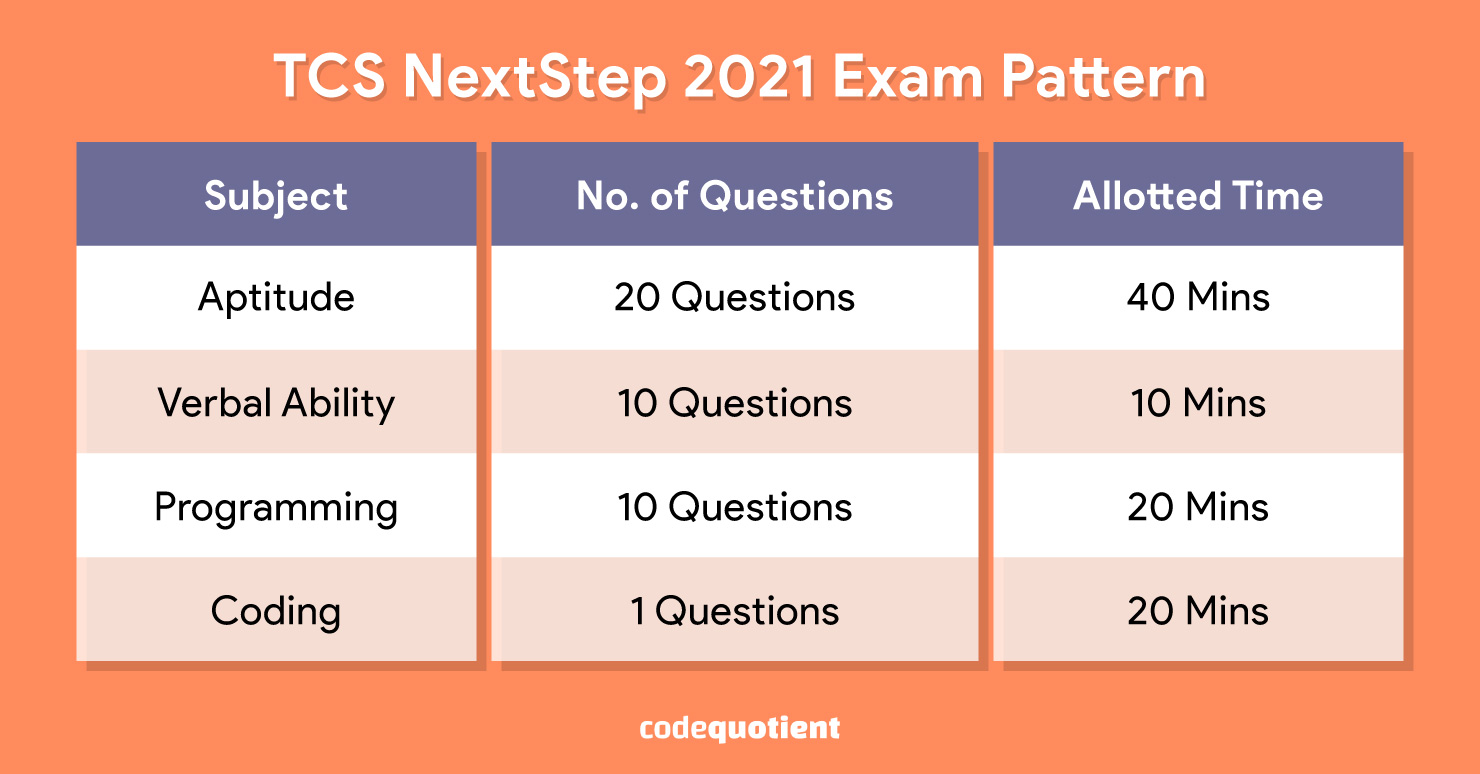 TCS NextStep Portal Application and Registration
To start the registration for TCS NextStep, one has to open https://nextstep.tcs.com/  and click on Register now.
Select Category- IT or BPS
Click on "Application Form" of your desired category
Fill in all the details like name, date of birth, etc.
Follow the steps to create your username  and password
Click the submit button
Use the password to log in to the portal again
Click on the Application form and Submit
Download the system-generated application form and save it for future reference
Use the 'Track my application' to know about the status of your application
Note: TCS NextStep initiative is available for Indian residents only. Applications from other geographical locations are not allowed to apply.
Although, after the registration is complete, the candidate can choose to give the exam in two ways: on-campus and off-campus.
TCS On-Campus
TCS NextStep also conducts examinations on various engineering campuses for important job roles. It is known as TCS on-campus.
Also, candidates can appear for this examination through their respective colleges. For TCS on-campus selection process, candidates need to carry the printout of the above application form.
Although, candidates should meet the age criteria at the time of appearing for the TCS selection process for job roles. The minimum age of application is 18 years and the maximum age is 28 years.
TCS Off-Campus
To appear for the TCS off-campus exam, the candidate has to register online as mentioned above. The notification for the scheduled off-campus interview comes through email. Once you get a notification, log in to the TCS portal, choose your online test location, and apply for off-campus. You need to carry the application form and resume on the selection date.
Also note that in addition to TCS NextStep, TCS conducts a range of other exams, including TCS NQT, TCS CodeVita, and TCS Digital. These exams offer candidates the opportunity to demonstrate their skills and knowledge in a variety of areas and can be a valuable addition to their resume.
TCS NextStep Registration FAQ
Here are some of the commonly asked questions about TCS NextStep.
Q1. If I already have a CT or a DT number, do I need to register again?
If you already have an existing CT (campus-based) or a DT (individual-based) reference number, sure you can continue using the same number at the TCS NextStep portal. however, there is no need to create your profile again.
Q2. Can I make changes to my profile at NextStep Portal?
Yes. You can make changes by clicking on the "Edit Application" form. However, you cannot change your name, date of birth, address, email id, and phone number.
Q3. I want to change my Test Location. Where can I do so?
You need to update the nearest test location on your application form. You can make changes until your profile status is "Application Received". Once the test location has been selected, it cannot be changed if your hall ticket has already been generated.
Q4. When will I receive my hall ticket?
You receive a hall ticket after you 'apply to off-campus drive'.
Q5. Where can I check my Hall Ticket?
You will need to access and also download your hall ticket from your profile in the NextStep portal or from the app.
Q6. How will we get the results of the Off-Campus Test?
The results of the off-campus test will surely be sent directly to your registered email id.
How can CodeQuotient help you with TCS NextStep?
In the TCS NextStep exam, a candidate is supposed to crack a coding question in 20 minutes. Surely being a part of the SuperCoders Program at CodeQuotient, you can easily hack these exams. Project-based learning at CodeQuotient can give you a more practical, skill-based, and hands-on approach to preparing for this exam.
Moreover, when you opt for a paid internship, you can try out what you have learned. This is exceptionally important to accelerate your learning and mastering a new skill. Projects in various domains will make you feel more confident, exam-prepared, and industry-ready.
Get UGC Approved BCA Degree
And Earn While You Do That
Join CodeQuotient's Software Engineering Program
Study at NAAC A+ Accredited Partner University
Get Paid Internship with Our Hiring Partners to Sponsor Your Fees
100% Placement Assistance