With technical expertise being among the most sought-after talents, the demand for software developers has only gone up in recent years. The cost of hiring one is greater than ever.
Hence, hiring a great software developer is a challenging process that businesses, entrepreneurs and companies at the large face in India.
Hence, figuring out the cost to hire a software developer includes many details recruiters need to consider. Some of them are:
The developers' skills
Experience
Product/project complexity
Required technology stack
Developer's location
Hence, before hiring a software developer, it's essential recruiters evaluate the actual cost to determine who fits your budget and needs.
This guide will walk you through the parameters that determine the software engineer's salary.
What Factors Determine the Software Engineer Salary in India?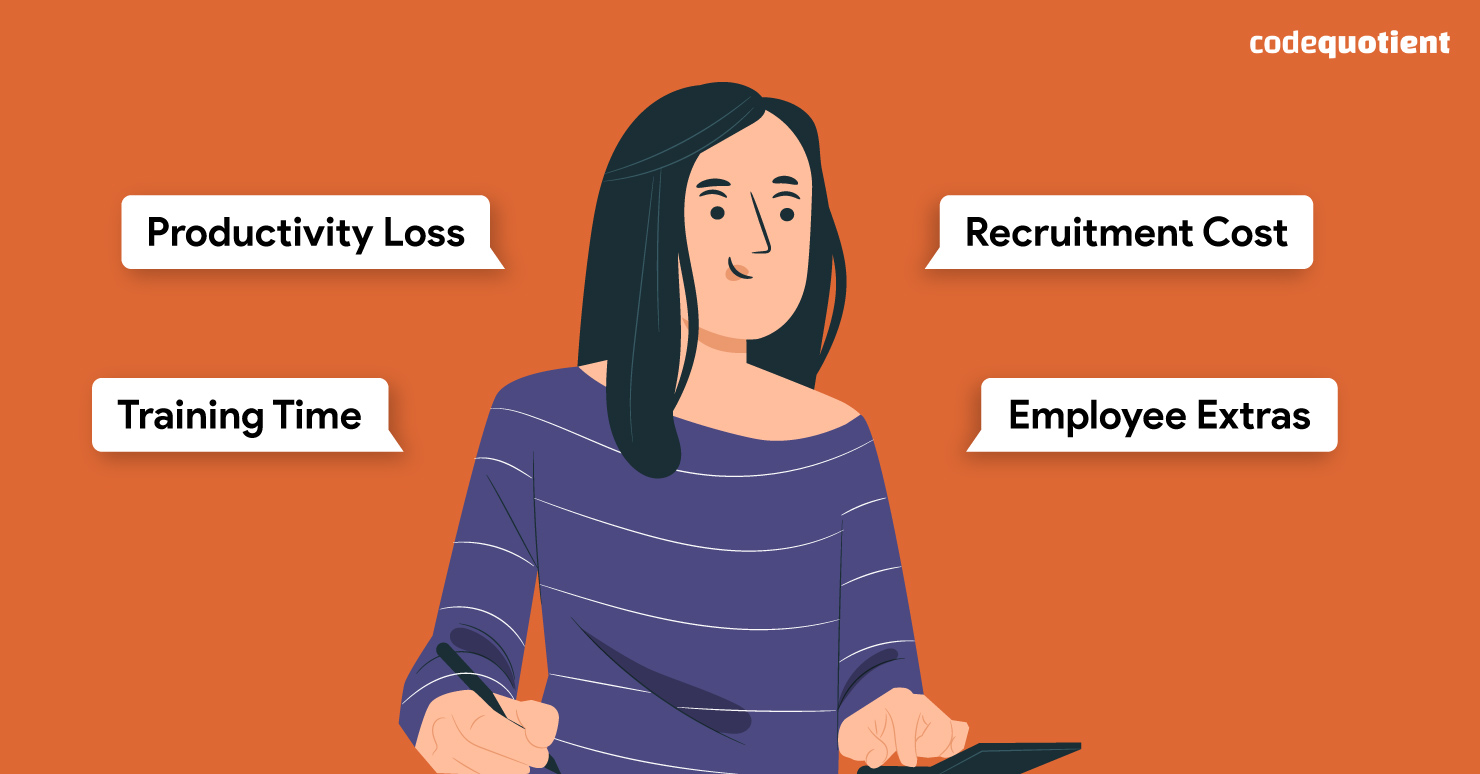 If you're trying to figure out the actual cost of hiring a software engineer, you must note that the so-called actual cost is a culmination of various factors.
Some of the factors that influence the actual cost of hiring a software developer are:
Recruitment costs (15-30% of the new hire's annual salary).
Internal personnel costs include vetting the candidates, interviewing, onboarding and training.
Cost from productivity loss while the position remains unfilled.
We're further breaking down the chief factors that could affect the ultimate cost of hiring a software engineer:
1. Cost from productivity loss
The loss of productivity can be a critical determinant of the actual cost of hiring a software developer in India.
For instance, dragging the hiring process means other employees will lose out on time that could be utilised in productivity. This will add up to the cost of hiring a software engineer.
Also read: How to Know if Your Tech Recruitment Process is Outdated.
Hence, ensuring time is not wasted in hiring is critical to overturning the negative productivity cost, ultimately determining the actual cost of hiring a software developer.
2. Recruitment cost
Hiring a new software developer in India often incurs more costs since employee turnover is a big problem. In addition, software developers often change organisations more frequently than other professionals, thanks to their ever-growing demand.
Hence, it's key to remember that the better a software developer is, the more expensive hiring will get because of their demands. Also, the software developer's experience, portfolio, and certificates will determine the actual cost of hiring the person.
3. Cost from deficit productivity
Hiring a new techie requires baseline training and management to ensure a tailor-made fit for the company.
New software developers have a deficit in productivity, as they could be making a few errors while getting oriented to the new job. This can add up to the actual cost of hiring a software developer in India.
4. Employee extras
Other expenses recruiters may need to consider are employee, health, retirement and transit benefit. In addition, it may be necessary to provide perks and additional benefits to meet employee expectations and attract the best techies in town. All these facilities add to the cost of hiring a software engineer.
Techies are the architects of the digital world. And due to this ever-increasing demand, the software development business has witnessed significant progress.
This progress has undoubtedly resulted in software engineering ranking as the top position in India, and the average software engineer's salary is only increasing.
5. Business overheads
Office infrastructure often includes servers, machines, office space, software licensing, facility management and supporting services.
Therefore, you need to include the cost of business overheads and workplace integration in your software engineer salary calculations.
Also read A Hiring Manager's Guide to Negotiating Software Engineer Salary.
For instance, if you offer a work-from-office model, you need to consider the cost of the office space, computer, software, and other facilities your developer will need to do their job.
Some internal costs include in-house recruiting staff, office work and management, temporary staffing costs, and training etc.
External costs could be counted through advertising costs, relocation and technology fees, and immigration or travel expenses among others.
Apart from the above-stated, your software engineer's salary is affected by multiple other factors. Some include:
Job Role
Experience
Skill-set
Location
It's important to note that organizations continually have to deal with employee engagement and retaining processes.
India is emerging as the world's top software engineering consultancy hub, and a software engineer's average salary in India is ₹0.8 Million per year.
Do note that the costs involved in hiring software developers fluctuate with the economic situation of the location. Hence, determining the cost eventually boils down to the correct estimation and clear communication.
If you want to make better hiring decisions, check out CodeQuotient.
We work with companies and students to make the best and most productive match. Drop an email at info@codequotient.com and we will provide you with the most effective way to hire fresh talent.
Get UGC Approved, BCA Degree
And Earn While You Do That
Join CodeQuotient's Under-Graduate Program In Software Engineering
Get Paid Internship with Our Hiring Partners to Sponsor Your Fees
100% Placement Assistance