Do you ever find yourself scrolling through job listings and feeling overwhelmed by the multitude of options? It's no secret that the tech industry is booming, and with it comes many career opportunities. However, knowing which direction to take can be challenging with many choices.
That's where CodeQuotient's Software Engineering Program (CQ-SEP) comes in, providing students with the skills and knowledge needed to navigate the ever-changing landscape of the tech industry and explore different career paths.
In this article, we will delve into the diverse career paths the tech industry offers and demonstrate how CQ-SEP can be instrumental in helping you realise your professional aspirations.
CQ-SEP: Explained
In this section, we will delve into what exactly CQ-SEP is and how it can help you achieve your career goals in tech. We'll explore all the key aspects of this unique program.
What is CQ-SEP?
CodeQuotient's Software Engineering Program (CQ-SEP) is a 3-year program designed to equip students with the skills and knowledge required to succeed in the tech industry.
The program is delivered in partnership with a NAAC A+ accredited university and offers a UGC-Recognised Degree upon completion. Students will gain in-demand coding skills, practical experience, and job-ready skills to ensure their success in the industry.
CQ-SEP: Course Structure
CQ-SEP's unique structure enables students to balance their academic coursework with the practical experience from live projects. During the first 1.5 years of the program, students focus on academic coursework and skill development.
After completing this stage, they will participate in paid internships with CodeQuotient's hiring partners, gaining up to 2 years of real work experience while attending academic courses.
This in-depth experience allows students to develop much-needed skills and prepares them as better tech industry employees.
3 Reasons Why a Career in Tech is Your Best Bet for Success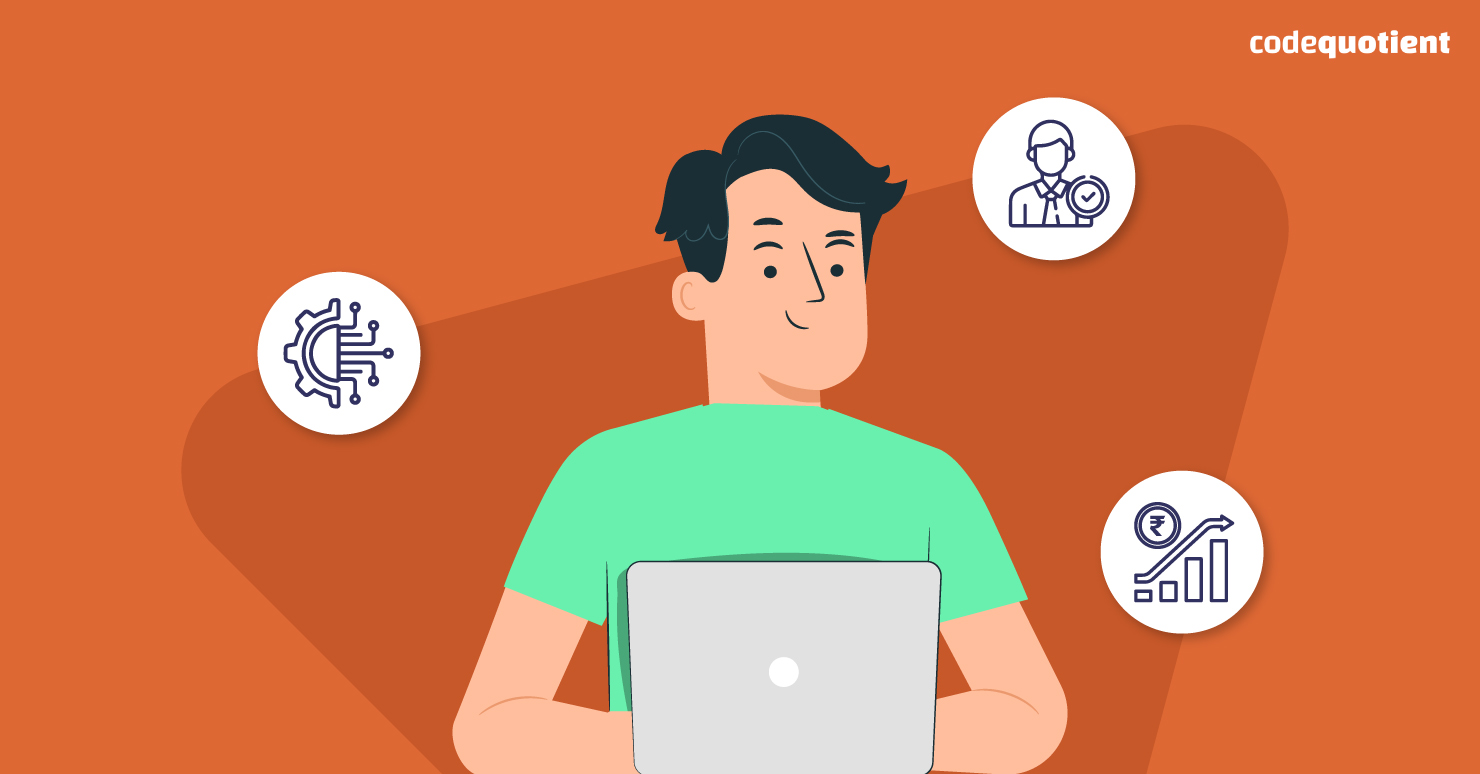 Let's examine why a tech career could be an excellent choice for your future.
1. The Growing Importance of Technology in Society
Technology plays a crucial role in our daily lives, from communication to entertainment and everything in between. As technology continues to evolve, its impact on society will only grow.
Thus, there is a significant demand for tech professionals who can develop and maintain these technological advancements.
2. The Demand for Tech Professionals
The demand for tech professionals continues to increase, with many companies looking for individuals with specialised skills and expertise. The growth in the tech industry shows no signs of slowing down, making it a stable career choice.
3. The Potential for Career Growth and High Salaries
Tech careers offer excellent potential for career growth and high salaries. Many positions within the tech industry offer opportunities for advancement and promotion, and the average salaries for tech professionals are often higher than those in other industries.
Furthermore, the tech industry is known for its culture of innovation, which allows individuals to continuously develop their skills and explore new areas of interest.
Tech Industry Career Paths: Exploring Career Options
Tech offers a range of exciting and rewarding career options. Here are just a few examples:
1. Software engineering
Software engineers design, develop, and test computer software, working on everything from web applications to operating systems.
2. Data analysis
Data analysts collect and analyse data, helping organisations make data-driven decisions.
3. Cybersecurity
Cybersecurity professionals help protect computer systems and networks from cyber attacks, working to prevent and mitigate security breaches.
4. Product management
Product managers oversee the development and launch of new products, ensuring they meet customer needs and business objectives.
5. User experience (UX) design
UX designers create intuitive and user-friendly digital products, working to optimise the user experience and drive engagement.
How CQ-SEP Can Help You Land Your Dream Tech Job
CQ-SEP offers a range of benefits that can help you achieve your career goals in tech. Here are a few of the ways the program can help:
1. In-demand coding skills
CQ-SEP provides students with hands-on training in the most in-demand coding languages and technologies, giving them the skills and knowledge they need to succeed in the tech industry.
2. Earn While You Learn
CQ-SEP allows students to work part-time with their hiring partners, gaining real-world experience and earning money while they learn.
3. Real-world experience
During the internship phase, students will gain in-hand work experience in the industry, preparing them to meet the demands of the tech sector and set them apart from other candidates.
4. Assured placement in leading tech companies
Upon graduation, CQ-SEP students are guaranteed placement in leading tech companies, thanks to the program's partnerships with some of the top names in the industry.
Your Journey to a Prosperous Tech Career with CQ-SEP
Exploring different career options in tech can be a great way to unlock exciting career opportunities and high-earning potential.
So if you're considering a tech career, CQ-SEP has plenty to offer to help you achieve your career goals.
To know more about this program, contact us.
Get UGC Approved BCA Degree
And Earn While You Do That
Join CodeQuotient's Software Engineering Program
Study at NAAC A+ Accredited Partner University
Get Paid Internship with Our Hiring Partners to Sponsor Your Fees
100% Placement Assistance