Although the demand for data scientists and web developers has skyrocketed recently, skilled professionals in these fields are in short supply. Moreover, the predicted employability of Indian engineering graduates is only 55% as of 2022 (Statistica). It could be due to the educational system's emphasis on theoretical knowledge with no industry applications of the concepts.
Do you also feel impacted by this flawed system and want to expand your skill set? Are you considering data science or web development training to improve your skills? Well, you are at the right place!
If you are passionate about tech development but unsure what career path or technical skills to pursue, this guide is for you!
The Key Distinctions Between Data Science and Web Development Are Listed Below
Data Science is a relatively new field, but its roots go back to the early 1900s. However, web development has been around for a couple of decades now.
Data Science: Definition and Importance
Data Science is a field of study that uses programming skills and knowledge of mathematics and statistics to extract knowledge from data (making sense of data). Data scientists analyse data sets using mathematical models to discover patterns, trends, and insights.
Data science applies to business problems where companies want to understand their customers, products, services, and markets.
Web Development: Definition and Importance
Web Development involves different processes like designing, developing, and maintaining websites. It also includes web publishing, web programming, and database management.
Web development ensures that any content on a website is accessible and usable by everyone. Therefore, a user not being able to access information on a website page implies that the developer did not do their job correctly or perhaps lacks adequate web development training.
What Do Learning Curves in Data Science and Web Development Look Like?
The significant differences between the career trajectories of data science and web development are described below.
The learning curve in a data science career
Step 1: Getting an undergraduate degree in statistics, computer science, IT, mathematics, or analytics. 
Step 2: Developing relevant skills
Technical skills:
Programming languages – R Programming, SQL (Structured Query Language), Python, Java, C, and C++ to sift through data
Familiarity with important databases
Experiences with popular software frameworks, such as Hadoop and Apache Spark
Data visualisation and presentation using tools like PowerBI, Matplotlib, Tableau, and Excel
Knowledge of neural networks, reinforcement learning, and Natural Language Processing (NLP) technologies.
Non-technical skills 
Analytical and soft skills
Ability to collaborate on multiple projects within a team.
Step 3: Getting an entry-level job as a data analyst and working on projects to showcase your expertise on a portfolio.
Step 4: Aiming for better jobs or earning a Master's degree or Certification.
The learning curve in a web development career
Step 1: Understanding the types of web development and learning the required skills with high-quality web development training.
The two types of web development are
Front End Development: It focuses on the visual elements of a website, i.e., UI representation of the application.
Back End Development: As the name suggests, it deals with the back end of a website, i.e., the business logic or server side of the application.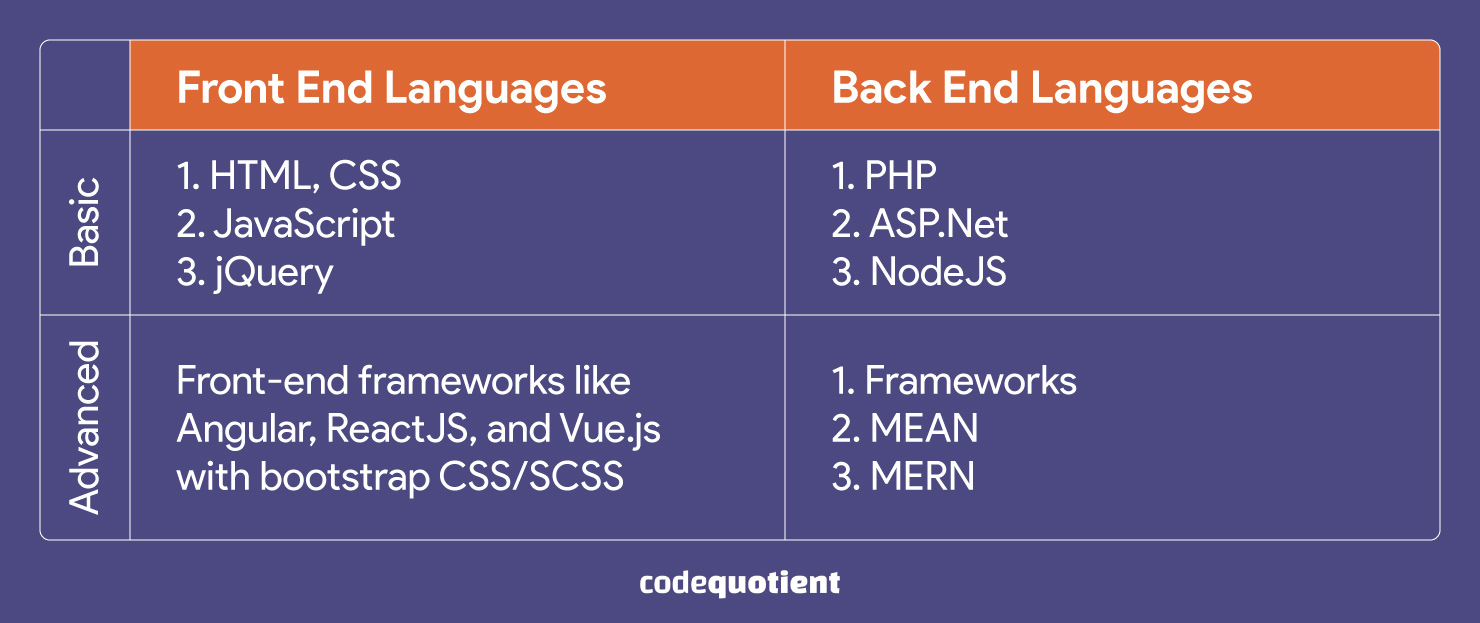 Step 2: Developing an aptitude for elements such as
User interface and User experience (UI-UX)
Visual design: Design software like Photoshop, Illustrator, and Sketch
Knowledge of computers, SEO, and web servers
Attention to detail and ability to clearly explain technical matters
Problem-solving skills and interest in developing a logical approach to work.
Step 3: Continue self-learning for advancement in web development to keep up with the ever-changing technological advancements and updates.
Step 4: Exploring freelance projects, building your website, or applying for jobs.
What Career Opportunities or Job Titles Can I Expect?
You will have a wide range of career opportunities as listed below: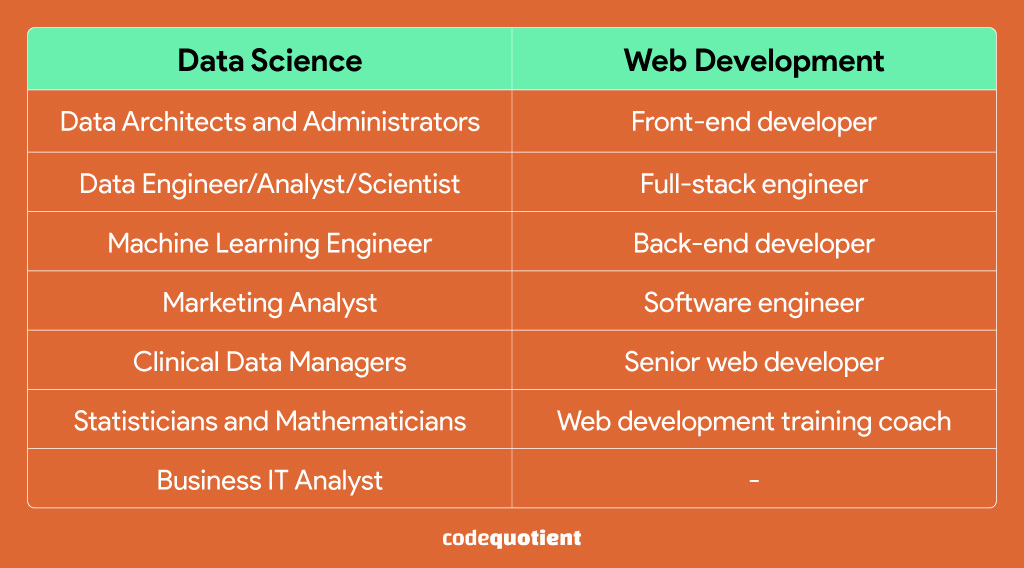 How can CodeQuotient (CQ) Help?
CodeQuotient's programming courses have nominal fees with placement assistance for the learners. Let's have a look at them:
SuperCoders Program: It is a 3-month online 'full stack development' FREE course for software engineers and interested students with basic coding knowledge. Apply here to become a Full-Stack Developer and land your dream job.
CodeQuotient Academy: CQ Academy offers a Bachelor of Computer Applications. It runs in association with colleges. Some of the key features of this web development training program include
Fully accredited course with an industry-integrated model
Hands-on work experience across different technologies
Mentorship and support from industry leaders
Academic credits for project practicals.
Fill out this form to become a software engineer and land your dream job.
Wondering if training with CQ is worth it? Here is a success story of one of our students.
Earning potential: Does data science pay more than web development?
The average annual salary of a data scientist in India is ₹10.6 Lakhs, while that of web developers is ₹3.1 Lakhs.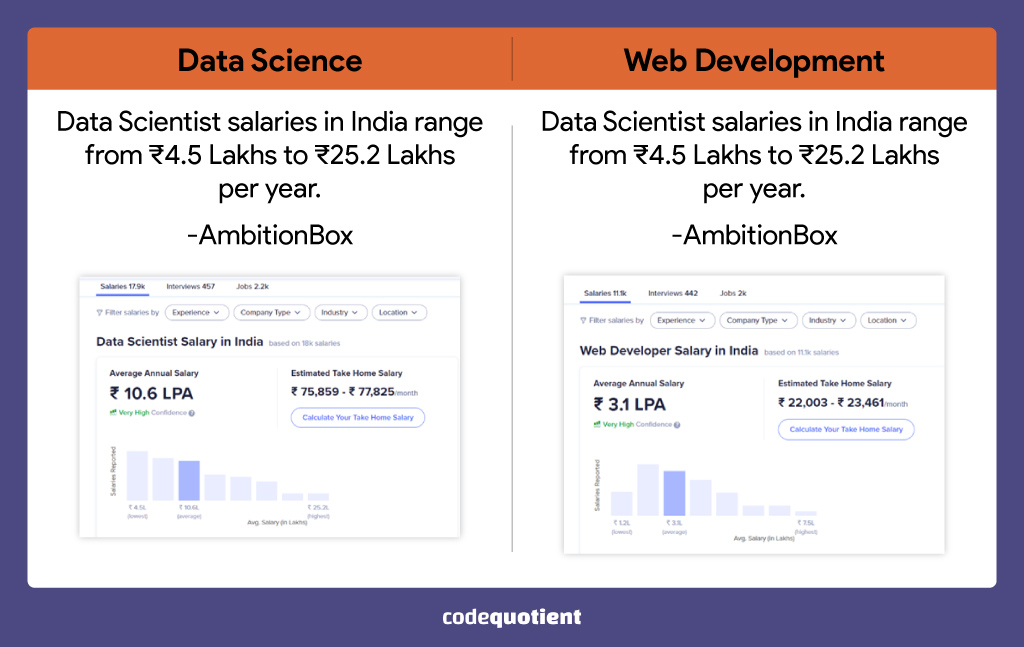 What Kind of Job Responsibilities Can I Expect?
Data Science Job Description
Performing statistical analysis
Proactively gathering and analysing the data from various sources to understand how the business operates
Developing AI tools that automate specific processes within the company.
Web Development Job Description
Creation of coding languages like HTML5: Writing well-designed, testable, efficient code by using best software development practices
Management of the site's technical aspects, such as its appearance, performance, and capacity to handle traffic without crashing
Troubleshooting website problems, and updating websites accordingly.
In a nutshell, data science and web development training benefit your career. Moreover, companies these days require a skilled workforce with data science and web development backgrounds to improve the efficiency of existing methods with digitalisation. Though the opportunities are ever-increasing, your passion and skills will shape your career.
So, to revamp your skills while gaining hands-on experience with real projects, you should check out CodeQuotient's best programming courses. You will surely love them! Get in touch to get started.
Get UGC Approved BCA Degree
And Earn While You Do That
Join CodeQuotient's Software Engineering Program
Study at NAAC A+ Accredited Partner University
Get Paid Internship with Our Hiring Partners to Sponsor Your Fees
100% Placement Assistance