The reputation of India as a global supplier of proven software developers is only deepening. Indian techies are making their mark in economically advanced countries like the USA, China, Canada, Japan, the UK, Switzerland, Germany, and New Zealand.
The booming revenue of the Indian software industry
The talented software developer pool is an asset to the nation in myriad ways. Revenue-wise, the Indian software market generated US$303.10bn in 2022 in the USA alone. A peek into the five-year estimates indicates this revenue is expected to touch a market volume of US$11.89bn by 2027 at an annual growth rate (CAGR 2022-2027) of 11.79%.
What Makes Indian Software Developers Stand Out in the Global Market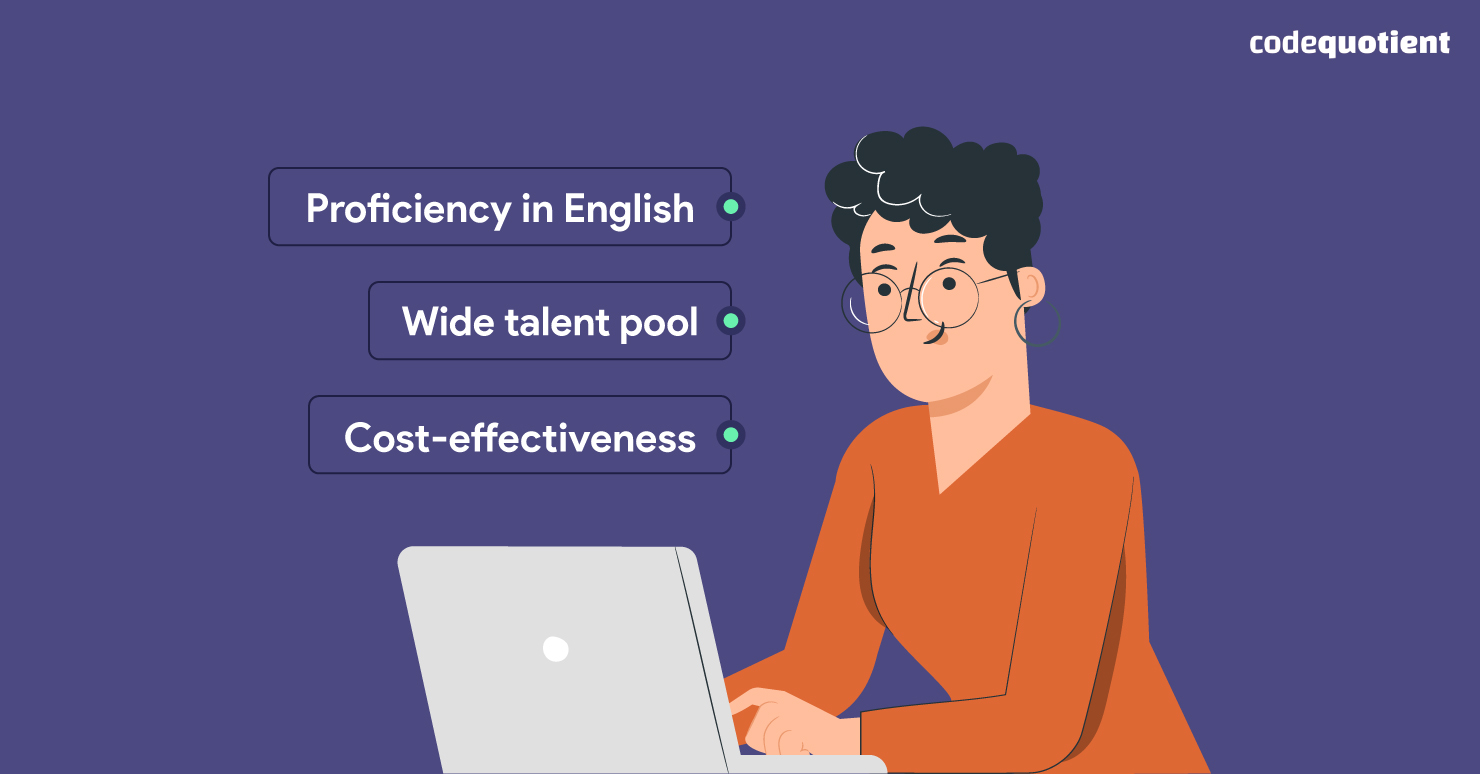 With a plethora of opportunities to learn and upskill in software, India is one of the most attractive destinations for software career enthusiasts. In 2017, the number of techies in India was 2.75 million. Experts project that by 2023, this figure will be more than the double, 5.2 million.
All through my journey from envisioning CodeQuotient, associating with thousands of enthusiastic learners to creating trained and talented software developers through CodeQuotient Academy, who are now employed in global software giants, I find Indian software developers possess many distinct advantages that impart them an edge over their other global counterparts.
#1: Proficiency in English
Though India is a land of linguistic diversity, professionally, English binds Indians. Hailing from one of the top 5 countries that speak English and English being a medium of education is an added advantage to Indian developers to become most sought after abroad.
#2: Globally renowned educational institutions
India is home to many reputed universities and institutions acclaimed for their competitiveness and quality of education.
Success stories of many Indian-origin globally-renowned CEOs prove that their roots in the Indian universities are one of their strengths that shaped their mindset and thinking.
#3: Wide talent pool
The availability of the youth population is indisputably a backbone of any thriving economy. With around 66% of the total population (more than 808 million) below the age of 35, India boasts of its largest youth population in the world.
Translating this into trained and mentored youth indicates how much India can contribute to other countries in terms of a talented workforce.
#4: Cost-effectiveness
Since the inception of outsourcing, global companies have always looked at India as one of the cost-effective destinations.
Gradually, this created an optimistic opportunity for Indian techies to upskill and be available to grab the promising opportunities that await MNCs.
By preferring Indian software developers, companies gain both intellectually and financially. Indian software developers are open to challenges, learning, and adapting, all at a proportion of cost compared to the local software developers.
For instance, the cost of hiring a software developer in the USA is thrice that of from India. Therefore, it is a primary reason for creating an opportunity pool for the tech-savvy Indian developers.
#5: Proven bright minds
Indians are proven to be fast learners in the global diaspora. Indian-origin students making their mark at the competitions like Spell Bee and Olympiad prove how Indians can beat the worldwide competitors with their innate intellectual prowess.
Indian software engineers also show inspiring problem-solving skills that make them most-demanded. As the visionary, Mr N.R. Narayana Murthy of Infosys believes – "Indian IT corporations have made work in the U.S. much more efficient by enhancing their productivity and quality of work. We have helped to add sufficient value to the corporations in the U.S."
#6: Availability of affordable and dedicated learning opportunities
The software learning opportunities in India are evolving every year. Learners now have access to skill-up from real-time industry experts with dedicated mentoring and hands-on sessions.
Furthermore, the cost of learning software courses in India is affordable than overseas. For instance, in India, the average course fees for software engineering ranges between INR 15,000 and INR 3,20,000 based on the educational institution. While the same in the USA can be around 13,000 USD to 39,000 USD.
CodeQuotient is proudly gearing ahead with a mission
At CodeQuotient, we are driven by a single mission – to identify the dedicated learners, hone their talent, and train them to face the industry challenges head-on. Aligning with our mission, our SuperCoders program is free of cost for learners. The program covers A-Z of software concepts and practicals one needs to evolve into a reliable software developer.
CodeQuotient Academy also collaborates with India's top-notch universities in equipping their students to be industry-ready. Collaborate with us to train your students with the most effective degree programs in India and hone them to be software engineers who can land their dream job.
Get UGC Approved BCA Degree
And Earn While You Do That
Join CodeQuotient's Software Engineering Program
Study at NAAC A+ Accredited Partner University
Get Paid Internship with Our Hiring Partners to Sponsor Your Fees
100% Placement Assistance