With the rise of big data and the increasing need for insights and predictions, data science has emerged as one of the fastest-growing fields in the job market. It has become a universal term in today's technology-driven world.
According to a report by IBM, the demand for data scientists will grow by 28% by 2023, making it one of the most promising careers of the future.
This article discusses the state of data scientist jobs in 2023, including the required skills and the most in-demand jobs and industries.
Definition of Data Scientist Job
A data scientist collects, analyses, and interprets large data sets to identify patterns, trends, and insights. They use statistical methods and machine learning algorithms to extract meaning from data and communicate their findings to stakeholders.
The primary responsibilities of a data scientist include the following:
Collecting, cleaning, and transforming data
Building and testing predictive models
Designing and executing experiments to test hypotheses
Communicating insights and recommendations to stakeholders
Required Skills for Data Scientist Jobs in 2023
Candidates must possess technical and soft skills to succeed in data science jobs in 2023.
Here are a few technical skills required for data scientist jobs:
Proficiency in programming languages like Python, R, and SQL
Experience with data visualization tools like Tableau and Power BI
Knowledge of machine learning algorithms and statistical modeling techniques
Familiarity with big data technologies like Hadoop and Spark
Understanding of data mining and data cleaning techniques
Some Soft skills required for data scientist jobs:
Strong communication skills
Creative problem-solving ability
Attention to detail
Ability to work in a team
Business acumen and domain knowledge
Current State of Data Scientist Jobs in 2023
The field of data science is rapidly growing in India, and the demand for data scientists is on the rise. According to a report by Analytics India Magazine, the data science job market in India grew by 45% in 2021, with over 93,500 job openings across the country.
Also, a recent study by Glassdoor found that the salary for a data scientist in India is INR 12 lakhs per annum.
5 Most In-demand Job Opportunities for Data Scientists in 2023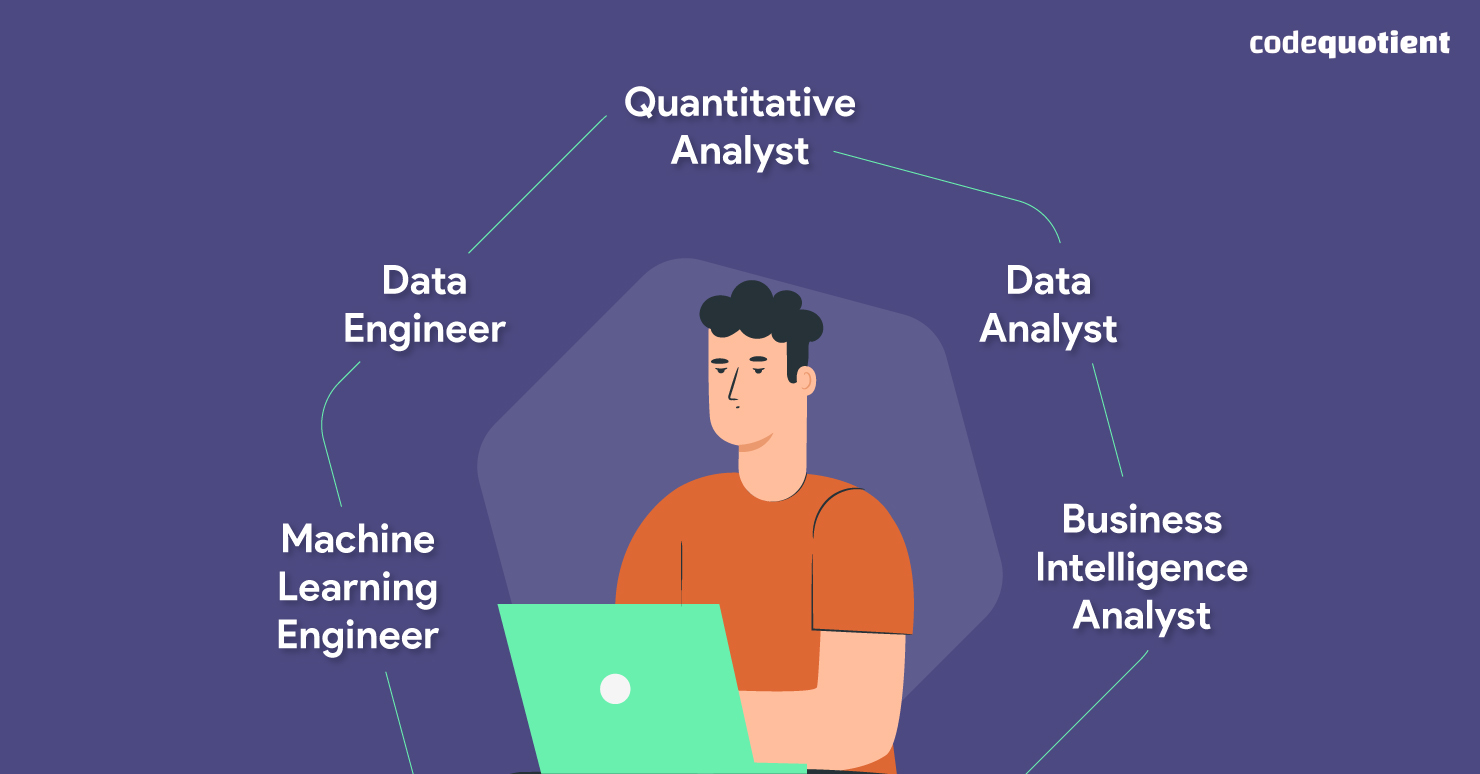 Data science is a diverse field with various job roles that require different skill sets. Here are some of the opportunities for data scientist jobs in 2023 are:
1. Data Engineer
Data engineers are responsible for designing, developing, and testing large-scale data processing systems like Hadoop, Spark, and NoSQL databases.
2. Machine Learning Engineer
Machine learning engineers are responsible for designing and building models to make predictions, automate decision-making processes, and optimize and deploy them in production environments.
3. Business Intelligence Analyst
Business intelligence analysts analyse data to make informed decisions, often using tools like Tableau and Power BI.
4. Data Analyst
Data analysts analyse and interpret data to gain insights into business operations, working with databases and visualisation tools to create reports and dashboards.
5. Quantitative Analyst
A quantitative analyst uses statistical and mathematical techniques to analyse and interpret data. They work in the finance, insurance, and healthcare industries to build models and forecast trends.
How to Prepare for a Data Scientist Job in 2023
The demand for data scientists is increasing rapidly, and having the right skills and qualifications to stand out in the job market is essential.
Here are some steps you can take to prepare for a data scientist job in 2023:
A bachelor's degree in computer science, statistics, mathematics, or a related field is a great starting point for a career in data science.
However, advanced degrees such as a master's or Ph.D. in data science or a related field can make you more competitive in the job market.
Consider taking courses in data mining, machine learning, statistics, and programming languages such as Python or R to enhance your knowledge and skills.
A strong portfolio of data science projects is a great way to showcase your skills and experience to potential employers.
Look for online resources and platforms like Kaggle, GitHub, and DataCamp to build and showcase your data science projects.
Networking and Gaining Experience
Networking with other professionals and participating in internships or volunteering opportunities can help you gain valuable experience and insights.
Attend data science conferences and events to meet professionals and learn about emerging trends and technologies in the industry.
By taking these steps, you can position yourself for success in the data science job market in 2023 and beyond.
Kickstart Your Career in Data Science
The field of data science is growing rapidly, and the demand for skilled data scientists is on the rise.
As we look ahead to 2023, there are many exciting opportunities and trends in the data scientist job market, including emerging technologies and job opportunities.
By preparing for a career in data science through education, portfolio-building, and networking, you can position yourself for success in this dynamic and rewarding field.
If you're looking to build a career in technology, the learning and career launchpad CodeQuotient can provide you with personalized guidance.
Our SuperCoders Program can help you gain practical experience by working on live projects, which will also help you create a portfolio. This way, you'll get an idea of what it's like to work in the tech industry and be equipped to tackle real-world challenges.
Speak with one of our experts to learn more!
Get UGC Approved BCA Degree
And Earn While You Do That
Join CodeQuotient's Software Engineering Program
Study at NAAC A+ Accredited Partner University
Get Paid Internship with Our Hiring Partners to Sponsor Your Fees
100% Placement Assistance