To be among the best in the tech industry, one needs to be dedicated. And to keep one dedicated, a great support system is absolutely necessary. At CodeQuotient, superior mentorship has become a cornerstone for the success of its learners. And Barza Amir is an example of that super dedicated team's achievement.
This is the story of her success.
Barza and Her Road to Success
Allahabad's Barza Amir was part of CodeQuotient's SuperCoders Program. It is a free 3-month-long online course focused on "full-stack development." This program is available to any software engineer graduate looking to upskill or any interested learners for that matter. The course focuses on hands-on training and practical projects, making learners ready for the industry. Its project-based learning approach is something Barza loved.
"The projects really helped put theory into practice. Once we tried to implement what we've learned, that's when we came to know about the different challenges that can arise and how to work around different issues," she says. 
Upon completing the course, she got placed at MIRRA Healthcare, a leading name in the healthcare sector, and later, she went on to join Farmart.
Also read: Ishita Jaiswal and her Success with CodeQuotient
Why does Barza vote for CodeQuotient?
Barza aptly sums up her feelings before joining the program. She says,
"I was in a bit of a slump since I didn't have any plans. I lacked focus and dedication, but I still wanted to study." 
She had a thirst for knowledge and a career plan in the back of her mind, but she was confused with too many options and suggestions. She joined CodeQuotient to gain knowledge without expecting much. That's when she got the biggest surprise. It was during her interview that she got to know that not only CodeQuotient is free, but it also provides placement opportunities. It was more than what she wished for.
She says, "I wasn't aware of the placement process. I only wanted to learn, which is why I joined CodeQuotient. But now, getting placed feels like a bonus! Whatever I studied has stayed with me even after the course was over." 
The course exceeded all her expectations, and she poured in all she had. And the result is here for all to see.
Her Support Pillars: The Mentors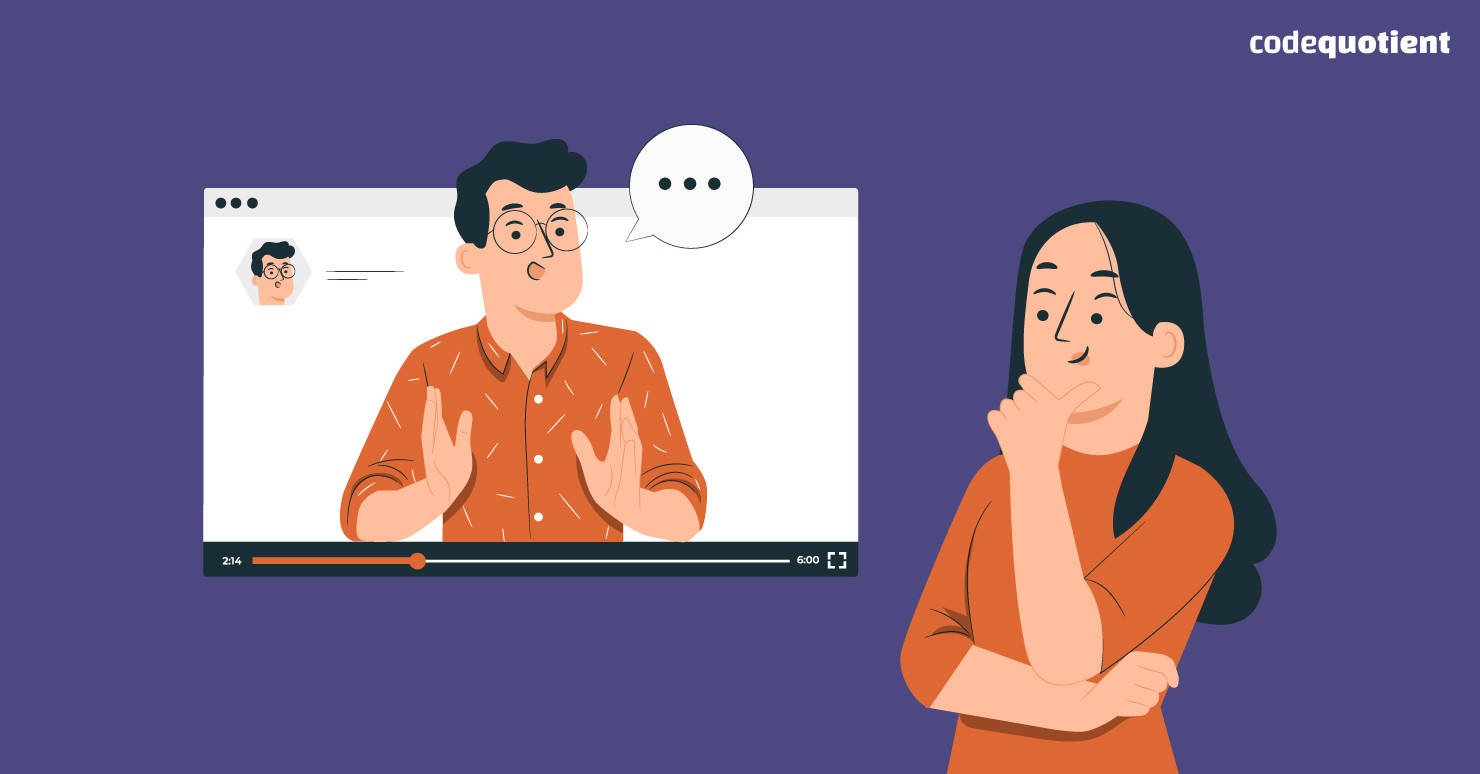 When the road ahead is unknown, it becomes important to have a mentor to guide you through the way. The mentors at CodeQuotient have made a name for themselves among the SuperCoder alumni. And Barza can't stop praising them. She says,
"The faculty at CodeQuotient is very cooperative. They never hesitated to clear any doubts. The mentors and teachers are very well-trained. If we had any issues or doubts, they would organise sessions for us individually." 
Now that's something every budding learner would want: personalised guidance and troubleshooting sessions to clear doubts one on one. The mentors are friendly and approachable and always there for you, 24*7.
That's not all. The guidance continues well beyond the course duration. Even after joining a job, if a SuperCoder alumnus wants to get refresher sessions to brush up on some concepts or topics, the doors of CodeQuotient are always open for them. The mentors are more than happy to help.
She has a special respect and appreciation for Arun Sir, Nikhil Sir, and Divya Ma'am, some of the mentors she worked closely with.
She says, "The support from the mentors and Arun Sir is what kept me motivated to continue. I never missed a deadline for any project and completed things on time, all because of CodeQuotient's dedication to teaching us. I would like to recommend Nikhil Sir to every budding coder who wants to study and get better at their skill. Nikhil Sir had a very different approach. Also, Divya Ma'am has helped me a lot. She's always been there to help me with my doubts and queries." 
The mentors approach the studies in such a way that concepts get imprinted in their memory. And the projects that are assigned help in solidifying what they learn. Barza also benefited a lot from this teaching method. She gushes,
"Some of the explanations the mentors gave, I couldn't find them even on the internet! I tried studying on my own with the help of Google and YouTube, but that wasn't as helpful as CodeQuotient's Program. (They have) the best technique I've ever come across."
What makes the SuperCoders Program so special?
Although CodeQuotient's SuperCoders Program is free, that doesn't mean it's easy. The learners are made to go through tough rigours and weekly assignments that test their dedication and time-management skills to the limit. The pre-course screens the learners, and only serious candidates are allowed through. This ensures the quality of the lot and the will of the learners. The assignments test the problem-solving attitude and out of the box thinking of the learners. These qualities are necessary for any job seeker worth their salt.
Barza adds, "The course also helped me discipline myself and keep me motivated. As a coder, it is important to practise every day, otherwise, you can lose touch or even forget the concept. CodeQuotient kept me on my toes and pushed me to practise daily."
Another benefit of project-based learning is that during interviews, learners have a ready portfolio of projects that looks great on a CV.
She adds, "The project also helped me be confident during the interview. I could clear the interview easily because of it. The recruiter was very impressed with my project."
So what are you waiting for? Let Barza inspire you to take the next leap of faith and enrol with CodeQuotient's SuperCoders Program now and chart your own growth story.
Because for you, the sky is the limit.
Get UGC Approved BCA Degree
And Earn While You Do That
Join CodeQuotient's Software Engineering Program
Study at NAAC A+ Accredited Partner University
Get Paid Internship with Our Hiring Partners to Sponsor Your Fees
100% Placement Assistance