Are you dreaming of starting your career in the IT industry with one of the most reputed companies in India? If yes, the Wipro Elite National Talent Hunt is an excellent opportunity to hone your skills, learn new technologies, and build a strong foundation for your career.
However, cracking the Wipro Elite National Talent Hunt is no easy feat. It requires a well-rounded preparation strategy, including a thorough understanding of the syllabus, regular practice, and strong problem-solving skills.
But don't worry; we have got you covered.
This article provides a comprehensive guide to the Wipro Elite National Talent Hunt to help you excel in the upcoming examination.
What Is the Wipro Elite National Talent Hunt 2023?
The Wipro Elite National Hunt is a recruitment program conducted by Wipro, a leading global IT company. The program aims to identify talented and passionate students who can contribute to the company's growth and success.
By participating in the program, you can get a chance to work with one of the most respected names in the IT industry.
Eligibility Criteria of Wipro Elite National Talent Hunt
To be eligible for the Wipro Elite National Hunt, you must meet the following criteria:
You should have a minimum CGPA of 60% in your college graduation.
You should have scored 60% or above in your 10th and 12th classes.
You should not have any education gap of more than three years.
One backlog is allowed during the assessment, but you need to clear all your backlogs before getting the offer letter.
If you have attended any Wipro interview process in the last six months, you are not eligible for the Wipro Elite National Level Talent Hunt 2023.
You should have completed your B.E./B.Tech/5 years Integrated-M.Tech degree.
All branches are eligible for the Wipro Elite National Talent Hunt 2023.

Wipro Elite National Talent Hunt 2023: Syllabus & Test Pattern
The Wipro Elite National  Hunt 2023 consists of three rounds:
Round 1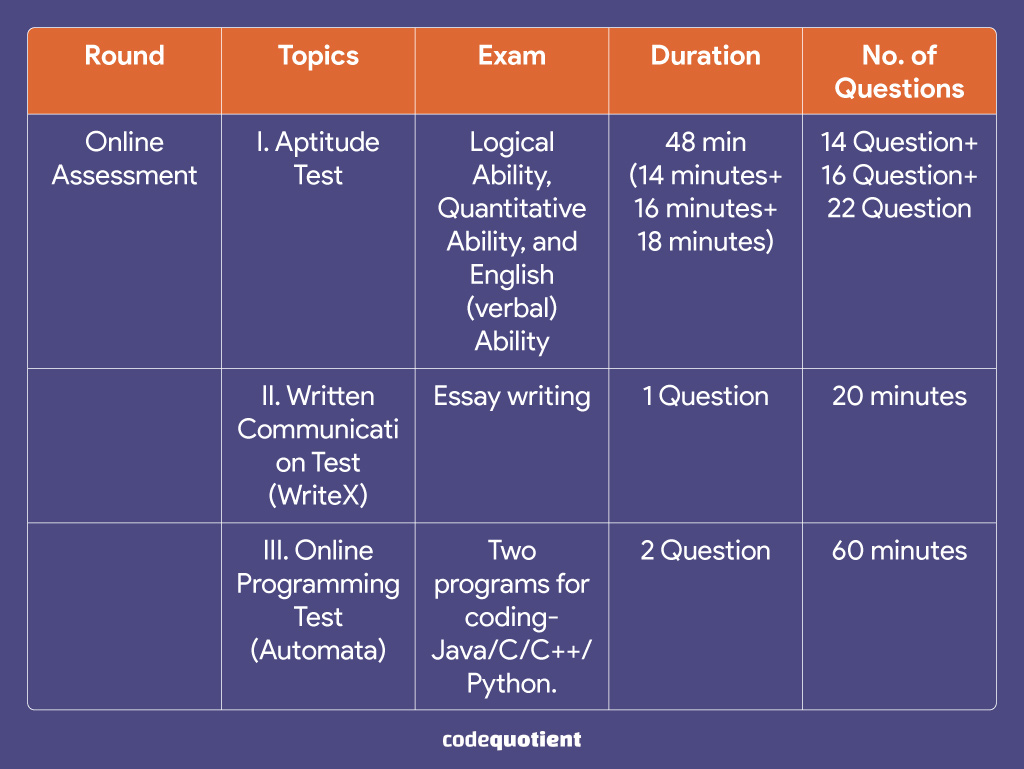 Here's the syllabus for Round 1 of the Wipro Elite National Talent Hunt:

English (verbal) Ability
In regard to grammar, there are three main types of questions:
Identifying errors
Improving sentences
Completing sentences
To successfully answer these questions types, one must have a solid understanding of the following topics:
Active and passive voice
Direct and indirect speech
Tenses
Prepositions
Articles
Subject-verb agreement
Pronoun agreement
Modifiers
Parallelism
When it comes to vocabulary, the question types are:
To excel in vocabulary questions for Wipro NLTH, one must have a strong grasp of:
Synonyms
Antonyms
Analogies
Idioms and phrasal verbs
Lastly, the reasoning section includes:
Reading comprehension
Para-jumbles.

Logical Ability
The reasoning section of the exam includes questions on coding, decoding, series, analogy, and visual reasoning.
Other question types include selection decision questions, data sufficiency, data interpretation, data arrangements, blood relations, logical word sequence, clocks, calendars, cubes, and direction sense.
The exam also tests understanding of statements, inferences, and inequalities.
Online Programming Test
They must have a strong foundation in programming fundamentals for at least one of these languages. The following topics must be mastered:
Arrays
Strings
Decision making
Looping
Functions
Round 2
Technical Round – Post clearing the Online Written Test, the selected candidates will be called over for the Technical Interview Round for Elite National Level Talent Hunt 2023.
Some important points to remember are:
You can expect questions about your academic background, programming skills, coding abilities, and problem-solving skills.
It is essential to learn about your Final Year Project in-depth and be able to explain it to the interviewer.
You should keep yourself updated on the latest technologies and trends used in the industry and be able to discuss them during the interview.
Round 3
HR Interview – Students who clear the Technical Interview Round will be selected for the final round of the selection process. Important points to remember are the following:
The interviewer will assess your communication skills, personality, and overall fit for the organisation.
Brush up your vocabulary and English speaking skills to effectively communicate your thoughts and ideas.
You should also talk about your experiences working in a team and how you contributed to achieving common goals.
Discussing your views on environmental protection and social issues to showcase your awareness of current events and trends is also a good idea.
You should be well-versed in the company's values and culture and be able to demonstrate how you align with them.

What's the Salary for the Selected Candidates in Wipro Elite National Talent Hunt?
If you are selected through the Wipro Elite National Hunt 2023, you will be offered a salary package of INR 3.5 lakhs per annum.
In addition, you will receive other benefits such as health insurance, performance-based incentives, and paid leave.
Bottom Line
The Wipro Elite National Talent Hunt 2023 is an excellent opportunity for students to kickstart their careers in the IT industry.
By meeting the eligibility criteria, preparing well for the recruitment process, and showcasing relevant skills, you can get a chance to work with a leading global IT company and gain valuable experience in the field.
If you require help preparing for this exam based on the updated Wipro NTH syllabus, you can connect with industry experts at CodeQuotient, the learning and career platform.
Also, our SuperCoders Program, a 3-month-long internship, can provide a project-based learning experience for learners to develop real-time projects and improve their portfolios.
Get in touch with us for further information.
Get UGC Approved BCA Degree
And Earn While You Do That
Join CodeQuotient's Software Engineering Program
Study at NAAC A+ Accredited Partner University
Get Paid Internship with Our Hiring Partners to Sponsor Your Fees
100% Placement Assistance